Recycling is an essential part of waste management for businesses today.  Hastie Waste makes it easier than ever for businesses to recycle and be environmentally aware. If your business produces a lot of cardboard waste, then a Hastie Waste recycle bin is a must. Reduce your carbon footprint and recycle as much as possible by talking to Haste Waste. Just like the Front Lift Bins, regular pick up can be weekly, fortnightly or monthly
Front Lift Cardboard Bins are generally for long term or permanent hire, with pick-ups made on a regular basis, or "at call" — depending on what your business needs are.
Your Hastie Waste recycling bin looks like a recycling bin as it's green with a yellow lid – just like your recycling bin at home, only for commercial quantities. Your Staff don't need to be rocket scientists to know which bin the cardboard goes in.
Front Lift Recycling Bins are most suited to businesses that produce large volumes of cardboard waste. Such businesses may include Cafes, Restaurants, Hotels, Resorts, Mechanics, Motels, Supermarkets, Wineries, Retail outlets etc.
3m³ Recycling Bins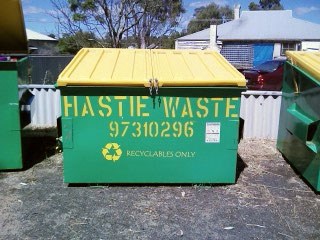 Front Lift Recycle Bins are available in 1.5m³, 3m³ and 4.5m³ capacities. These bins are generally hired long term basis in permanent positions.
You can select which pickup frequency best suits your business needs. Call our friendly team now and Lets talk Rubbish".